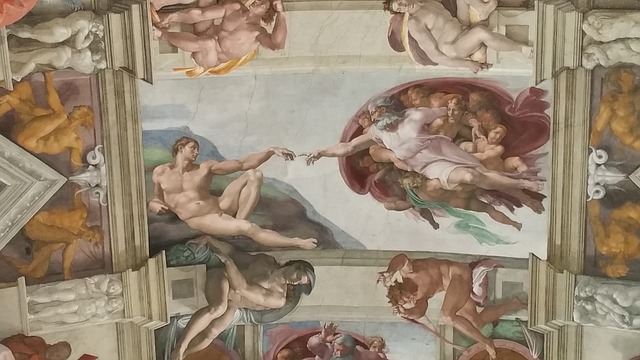 Where will your next vacation be? Are you planning on taking a cruise or heading to the beach? While basic vacations can be relaxing, they lack the depth you'll get when traveling to a city full of history, beautiful art, and marvelous architecture. For example, nobody visits Italy to stay in a resort – they want to explore Roman history including the Vatican museums like St. Peter's Basilica, the Raphael Rooms, and the Sistine Chapel.
While all of the Vatican museums are worth touring, the Sistine Chapel is the most famous. If you haven't seen the Sistine Chapel, here are the best reasons to get out your sharpie and put this spectacular piece of history at the top of your list:
The Sistine Chapel holds several mysteries best viewed in person
Most people become familiar with the Sistine Chapel when they read about the famous sculptor-turned-painter Michelangelo. In 1503, Pope Julius II asked Michelangelo to repaint the chapel's ceiling, which at the time depicted a starry, blue sky.
Over the course of many years, several artists covered the Sistine Chapel in beautiful frescoes. Michelangelo's contributions include nine scenes from Genesis painted on the highest part of the ceiling. At first glance, these panels appear to be nothing more than beautiful artwork. However, he left behind some interesting details. For instance, experts have analyzed his paintings and discovered hidden symbolism in several scenes.
Mystery 1: Michelangelo referenced anatomy in his artwork
Michelangelo was known to have a keen interest in anatomy and dissected cadavers whenever he could. It makes sense that he'd incorporate his love for anatomy into his work. For example, in the scene titled "The Creation of Adam," experts agree that the outline of God and the angels represents an anatomically-correct image of the human brain – complete with a brain stem.
Mystery 2: Michelangelo depicted his disdain for the project in his artwork
It's no secret that Michelangelo didn't want to paint the Sistine Chapel and was pushed into accepting the Pope's request. Many speculate that Michelangelo painted his unhappiness into "The Last Judgment" by adding two miserable-looking self-portraits. It appears he painted his deceased face onto Holofernes' severed head and painted his own ghostly face on the flayed skin of Saint Bartholomew.
Mystery 3: Michelangelo depicted the forbidden fruit as a fig
If you're wondering why Adam and Eve are depicted with fig leaves covering their bodies, it's because Michelangelo depicted the "Tree of Knowledge" as a fig tree in his "Fall of Man" fresco. In this scene, Michelangelo united two scenes from Genesis – the temptation and the expulsion. If you look closely, you'll see the serpent is depicted as a woman.
All of these mysteries are fun to view online or in books, but nothing beats viewing them in person. Keep in mind, you might need some binoculars to zoom in on the details. The best way to view these magnificent mysteries is to schedule a semi-private tour with a reputable company.
With thousands of five-star reviews and a #1 rank on Trip Advisor since 2011, What a Life Tours provides a Vatican early morning tour to help you skip the crowds. You'll get to stand peacefully in awe of Michelangelo's masterpieces, the beautiful chapel architecture, and soak up the history from your guide without getting pushed around by the crowd.
You'll be overwhelmed by how big the project was
Once you see the Sistine Chapel in person, you'll understand why Michelangelo initially refused the work and why he appears to have resented accepting project. The magnitude of what it must have taken to paint the chapel can only be grasped in person.
While you're standing in the middle of the chapel in awe of the artistic talent contributed by multiple artists, consider that Michelangelo didn't paint the ceiling lying down, as many presume. He created his own custom scaffolding and painted the ceiling standing up. You can only imagine what that must have done to his neck and eyesight after four years of nonstop work.
Rome is calling you to the Sistine Chapel
The Sistine Chapel is one of history's most famous locations you don't want to miss. If you're excited about seeing Michelangelo's masterpieces in person, it's time to make Rome your next travel adventure destination.