When you visit Northern Ireland, the opportunity to explore the Giant's Causeway should not be missed. Although going out and walking the length of this historical site will undoubtedly be a long remembered highlight of your trip, booking an excursion with Allen's Tours will keep you totally entertained. This guided tour provides travellers with the history of the Giant's Causeway as well as many nearby notable sites. On your way there, enjoy views of the Irish Sea, walk carefully over the Carrick-a-Rede bridge, and see ancient Carrickfergus Castle. You very well may end up learning more about Northern Ireland in a single day than you knew before, simply by taking the Giant's Causeway Tour.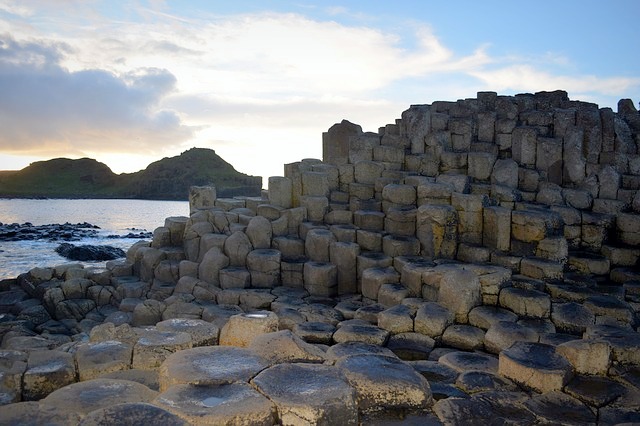 Multiple Famous Northern Ireland Sites
The highlight of the trip is unquestionably the stop at Giant's Causeway, but you're going to have a lot of fun on the way. Get ready to hike, climb, walk and take oodles of pictures as you converge upon various historical sites, starting with the town of Carrickfergus. This town is vital to Ireland's history as it is one of the oldest and most thriving communities in the country. At Carrickfergus Castle you will see a remarkable example of ancient Norman architecture, as the structure is open to visitors who want a glimpse at the old world. There is much to cover in the Glens of Atrim, a vast green pasture that has plenty of large rocks, rolling hills and other features that you are going to want to stop and properly explore.
Stop at the Whiskey Distillery
At Bushmill's Whiskey Distillery, you can see first hand how some of the finest liquor in the world is created. The distillery itself has been in Antrim county for over 400 years, and many of the processes used to make whiskey are still the same. As expected, you can get a sample of whiskey or even purchase a bottle to share with friends when you return home.
Discovering the Giant's Causeway
The height of the trip takes place during the stop at the Giant's Causeway. There you can take a leisurely walk over a carefully formed basalt structure and become captivated by what you see. Although each individual column is slightly different from the next, the row like formations will leave you astounded in person. There is also a visitors' centre on location, so you can purchase the perfect souvenirs to be reminded of this Northern Ireland splendour. Even before arriving, you will learn all about the different stories and the impressive history of the Giant's Causeway.
Taking the Giant's Causeway Tour will provide you with a fun filled day spent enjoying various outdoor and indoor activities, allowing you to sample some of the most spectacular sites in all of Northern Ireland. Along the way, you will have plenty of time to replenish your fuel stores with delicious local foods and refreshments. What better way to create a great story of your time in Ireland than by taking a guided tour that provides you with a quick rundown of the very best sites there are to see on this part of the island?