Comedy wouldn't be what it is today without Chicago's contribution. For one, the city is the birthplace of sketch comedy, producing the legendary Second City troupe in the 1950s. Chicago is also where SNL scouts for fresh talent when it needs to replenish its cast. In fact, the Windy City is where powerhouse comedic duo Amy Poehler and Tina Fey originally met. From this rich comedic history, Chicago has cultivated a world-class stand-up scene with a dizzying array of acts. If you're in the city and ready for gut-busting, knee-slapping laughter, don't miss these four stand-up destinations.
The Second City Mainstage
Specializing in sketch and improv comedy, The Second City launched the careers of comedians like Steve Carell, Tina Fey, John Belushi, Bill Murray, Joan Rivers, and Chris Farley. The group launched its 102nd revue this month, with shows every night of the week except Monday on the Mainstage. The club offers cocktails and food throughout the shows. While The Second City's Wells Street location focuses mostly on sketch comedy, its new 300-seat UP Comedy Club on North Ave features stand-up regularly.
Chicago Underground Comedy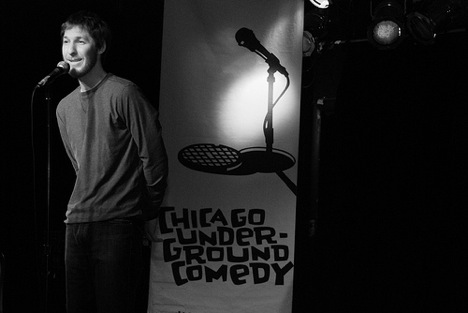 [Image via Flickr by -Tripp-]
According to the venue's site, this is not the place to come if you want to hear a weary bit about stereotyped differences between men and women. But if you want local up-and-coming comedians' fresh takes on things like working as a barista and getting a drunk-driving charge on a bike, Chicago Underground Comedy is the place for you. This spot is ideal for young-and-broke people who want a good laugh—admission is usually $5, and the average beer costs $4.
The Comedy Bar
Three nights a week, Entourage nightclub becomes River North's The Comedy Bar, which is essentially a stage and 160 chairs set up on a dance floor. Expect to see standup veterans as headliners, with special events hosted by co-owner Jim Belushi. Ticket prices are around $10, the decor is über chic, and there is no drink minimum. The venue is near The Magnificent Mile, which is a great place for visitors to stay for easy access to comedy clubs.
ComedySportz
This club is unique in that it offers family-friendly comedy for all ages with shows ranging in price from $10 to $22. ComedySportz's main show begins with two teams in jerseys facing off in an improv competition in which players receive penalties for swearing or using sexual innuendo. During the show, the players engage in a variety of short-form improv games, and the audience largely decides the victor. The founder of the ensemble first did improv with the people who went on to create Airplane! and The Naked Gun.
Finding a place with hilarious stand-up in Chicago is not exactly a challenge. With venues like these, the real problem will be trying to pick just one. Each destination has its own comedic niche, from alt-comedy to all-ages comedy, so choose the venue that offers your kind of jokes in your ideal environment.