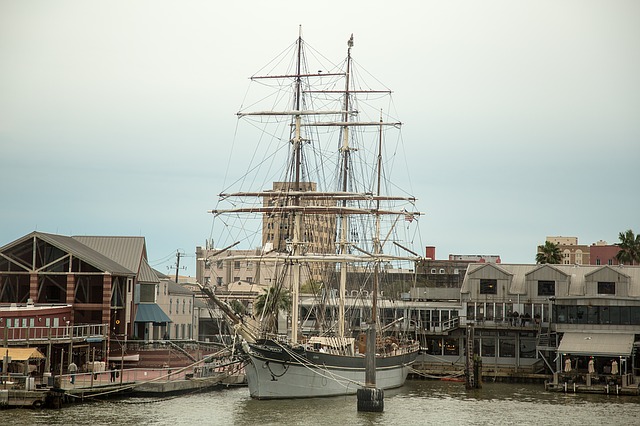 Love the beach? How about delicious restaurants, hopping night hot spots, and entertaining attractions? If so, Galveston, Texas is the place to be – and the Historic Strand District is where to go! Filled with Galveston's best, the streets of the Strand are lined with entertainment, delicious food, and beautiful historic sights, making it the go-to spot when visiting this great city. But, with so much to do and see, it can be hard honing in on where you should go first; hopefully, this list can help you out!
Where To Eat
Perhaps the best part of staying near the strand is the absolutely massive selection of restaurants to choose from. Whether you want seafood or sandwiches, steak or fast food, The Strand is home to a variety of establishments to fit every palate. So where should you eat when you are vacationing near the Strand? It depends!
Looking for a good sandwich? While Yaga's Tropical Café is always a great choice, a nice hidden gem that you really don't want to miss out on – especially if you have some time – is Board Game Island. You'll find simple fare here prepared perfectly, from the decadent fried Shrimp Po'boy to your standard BBQ sandwich with chips. Though simple, the food really is delicious, and you can play a variety of board games while you eat, making this the perfect spot to come to on rainy days!
If your taste is a bit more refined and you're looking for a nice night out, Rudy & Paco can't be beat. Offering perhaps the best lump crab cake in Texas, and a delicious menu from top to bottom – including their famous Pecan Ball for dessert – Rudy & Paco is more than worth the few minute drive from downtown proper. Just grab an Uber, and check it out; it really is some of the best food around! Don't forget to dress up a bit, though; this isn't a place to wear flip flops.
What To See
This famous downtown area of Galveston is also a great place to visit if you want to get some sightseeing in on your vacation. With historic buildings throughout and an overall pleasing aesthetic, it can be fun simply walking from corner to corner and just to see what's next! But, if you're looking for something specific, you are most certainly in luck!
For history buffs, Galveston Island Historic Tours give you an insight into this city's rich history, while taking you to all the great sightseeing spots in the area and beyond! Visit the most historic buildings in the Strand, while the tour proprietor spins a yarn that only a part time history professor like himself can.
After your tour comes to a close, continue your journey through history with the 1877 Tall Ship Elissa at the Texas Seaport Museum. This window into our seafaring past is one of the most popular attractions in the area, partially because – unlike other vessels like it – Tall Ship Elissa still is fully functional! It is also a beauty to see, and one of the true "can't be missed" spectacles when visiting the Strand. Other great attractions include the Grand 1894 Opera House, Bishop's Palace, and The Galveston Railroad Museum.
What to Do
Like many downtown areas, the first thing on the Strand's agenda for you is, of course, shopping! The entire district is filled with high end boutiques, local antique shops, your favorite chains, and so much more, making this a perfect place to find some souvenirs or just do some window shopping. Don't forget to hit up the Admiralty – filled to the brim with nautical themed gifts, toys, and jewelry – to honor this city's seafaring past and present, and maybe pick up a few souvenirs!
Of course, shopping isn't the only activity you can take part in while in town! If you love culture, the Pier 21 theater near the Port of Galveston Cruise terminal isn't just a pretty sight; it's also a functioning theater! Here, you can enjoy historic documentaries about Galveston, including the Great Storm, The Pirate Island of Jean Laffite, and Galveston Gateway on the Gulf. Better yet Carnival Cruises dock here, giving you a chance to shop and explore before cruising in style out on the ocean blue. Don't forget to hit up the Hotel Galvez spa before you go!
A Fun Vacation For All
Though it may seem like all states offer a similar "old town" location, the Strand in Galveston is unique, offering the best bits and pieces representative of Galveston as a whole. No matter if you're looking for a decadent restaurant, a fun bar scene, or just a nice place to sit and watch the waves come in, you are sure to find whatever you desire right here in the Historic Strand District in Galveston, Texas. Don't forget to visit https://sterlingrealtors.com/ to find your vacation rental near the Strand!