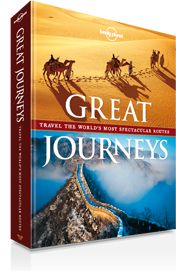 Lonely Planet is offering a chance to win a trip on the Trans-Siberian Railway from Moscow to Beijing via Mongolia.
The competition is running to celebrate the launch of Great Journeys – a lush, hardcover edition presenting more than 70 of the world's most spectacular routes, from Marco Polo's Silk Road to Route 66—will hits stores on October 1st.
Great Journeys organizes the expeditions by theme including classic overland routes (Cairo to Cape Town), famous literary journeys (Che Guevara's Motorcycle Diaries through South America), great walks (The Great Wall of China), classic rail journeys (Trans-Siberian Railway) and more. The expert content gives you a glimpse into what it is like to experience each trip yourself, interwoven with beautiful images and practical information for planning, essential experiences, shortcuts, detours, and recommended reading for those who want to learn more.
Visit lonelyplanet.com/competitions/greatjourneys/ to enter by voting on your favorite journey and for more details.
The contest ends on October 7th at 11:59pm GMT.