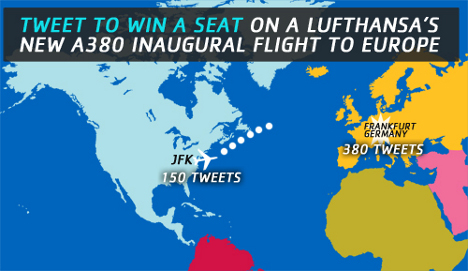 STA Travel has partnered with Lufthansa to offer you the chance to win a seat on Lufthansa's inaugural A380 flight from New York to Frankfurt, Germany on February 28!
How to Enter
This is a Twitter competition. Starting at 3 p.m. central on Tuesday, February 15 and ending at 3 p.m. on Thursday, February 17, send this tweet to your followers:
Hey @statravel, Ich will den Sitz. #LufthansaA380.
Tweet that and you are entered. Everyone who tweets is entered to win the exclusive seat.
From: Tweet to Win a Seat on Lufthansa's Inaugural A380 Flight to Europe.