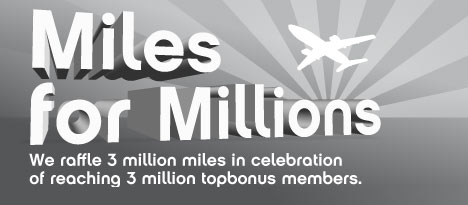 Win one million award miles with airberlin
airberlin are celbrating reaching over three million topbonus members by giving you the chance to win an extraordinary number of miles: there are three million award miles to be won in the topbonus prize draw!
Register by 30th September 2012 for the prize draw, which gives you the chance to win the first prize of one million award miles! That will allow you, for example, to book more than 50 free flights with airberlin within Europe!
The prizes
1st prize: 1,000,000 award miles
2nd prize: 300,000 award miles
3nd prize: 100,000 award miles
4th – 10th prize: 40,000 award miles
11th – 50th prize: 10,000 award miles
51st – 1,000 prize: 1,000 award miles
The competition is open to new and existing members.