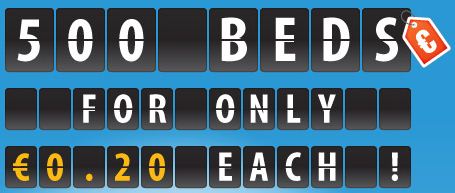 500 hostel beds for 20 cents each!
From 21st-25th March 2011, ten of HostelBookers top hostels will have dormitory beds available for just €0.20.
How to claim
Bookings are processed on a first-come-first-serve basis, so be quick.
Between 21st and 25th March 2011, 100 '20 CENT BEDS' will be available to book everyday from 16:00 GMT.
Valid on any night(s) between 9th and 13th May 2011. Travel outside these dates will be charged at the normal hostel rate.
You can book up to two €0.20 beds per night in any of the hostels below. Only rooms labelled "20 CENT BEDS" are included in the offer.
Terms and conditions apply, so see the website for full more information.
Participating Hostels
Athens, Greece – Ionis Hotel
Barcelona, Spain – Sant Jordi Sagrada Familia
Dublin, Ireland – Ashfield House City Centre
Edinburgh, Scotland – Westend Hotel
Krakow, Poland – Mama's Hostel- Main Market Square
Lisbon, Portugal – Equity Point Lisboa
London, England – The Walrus Waterloo
Los Angeles, USA – Adventurer Hostel
Melbourne, Australia – Space Hotel
Rome, Italy – MJ Place Hostel
500 hostel beds for 20 cents each!
Travel Deals: Hostelbookers