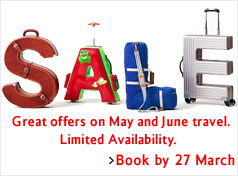 British Airways Flight & Holidays Sale
British Airways March sale has started and includes hundreds of great value holiday packages as well as flights to more than 90 worldwide destinations for various travel departures between March 15, 2012 to January 31, 2013.
Discover a new city or just enjoy a short break to Europe with two nights in Nice starting from £159 per person. Alternatively, explore the Costa del Sol and enjoy a seven night fly-drive to Malaga from £129 per person
For USA deals head to New York and bag a bargain with three nights from £499. Have fun in Orlando with seven nights from £499 per person.
Sun seekers check out the Caribbean and save up to £150 per person on holidays. Seven nights at the 3* Rex Turtle Beach, Tobago costs from £599 per person. Go all-inclusive in Cancun with seven nights at the 4* Oasis Palm costing from £699 per person.
Some of the best offers are listed below:
Flight Offers
London Heathrow to Los Angeles in World Traveller from £499pp return
London Heathrow to New York in World Traveller from £396pp return
London Heathrow to Seattle in World Traveller from £546pp return
London Heathrow to Rome in World Traveller from £93pp return
London Heathrow to Frankfurt in World Traveller from £67pp return
London Gatwick to Antigua in World Traveller from £513pp return
London Gatwick to Barbados in World Traveller from £513pp return
London Gatwick to St. Lucia in World Traveller from £543pp return
London Heathrow to Mexico City in World Traveller from £613pp return
London Heathrow to Dubai in World Traveller from £410pp return
Flight+Hotel Offers
Nice – Flights + 2 nights hotel from £159pp
Berlin – Flights + 2 nights hotel from £219pp
Barcelona – Flights + 2 nights hotel from £209pp
New York – Flights + 3 nights hotel from £499pp
Las Vegas – Flights + 3 nights hotel from £799pp
Barbados – Flights + 7 nights hotel from £629pp
St Kitts and Nevis – Flights + 7 nights hotel from £709pp
Abu Dhabi – Flights + 3 nights hotel from £469pp
Flight+Car Offers
Malaga – Flights + 7 days car rental from £129pp
Bordeaux – Flights + 7 days car rental from £149pp
Pisa – Flights + 7 days car rental from £209pp
Boston – Flights + 7 days car rental from £419pp
San Francisco – Flights + 7 days car rental from £479pp
Miami – Flights + 7 days car rental from £509pp
British Airways Flight & Holidays March Sale
Travel Deals: British Airways