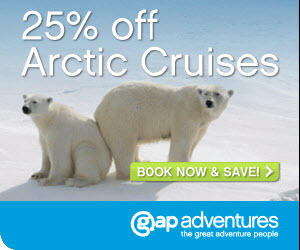 25% Of Selected Arctic Tours – PROMO CODE: ArcticEBB.
Gap Adventures are offering 25% off selected tours to the Arctic, making it the cheapest Arctic tour in the market, providing a great experience at unbeatable value!
Discounted tours are:
Norwegian Fjords and Polar Bears – 15 days – now £2685 GBP
Realm of the Polar Bear – 8 days – now £2340 GBP
Realm of the Polar Bear in Depth – 11 days – now £2392
Book early and save 25%. Arctic Early Booking Bonus is on now for expeditions to Norway and Spitsbergen in May, June and July 2011.
An Arctic cruise aboard our spacious, recently-renovated ship the M/S Expedition offers you a wildlife experience to remember. Past expeditions have come close to Polar Bears, Walrus, Reindeer, Whales and much more.
When not on the look out for wildlife, our library and bar areas as well as your en-suite bathrooms and ocean view cabins will keep you comfortable and enjoying the scenery. Our experienced Expedition team and above average staff to guest ratio ensure that your Arctic Voyage will be both educational and entertaining. This offer is only online for a limited time, so grab a great cabin while they're still available and gear up for a great Arctic adventure.
TERMS AND CONDITIONS:
Promo code is ArcticEBB. Discount is 25% off Arctic expeditions for 2011. Excludes Arctic Highlights (XVAHNX) tour. Valid for new bookings only in a category 2 and higher cabin only. Cannot be combined with any other offer, promotion or discount. Does not apply to airfare, hotels, transfers or other in-country services or on-board ship charges. Gap Adventures reserves the right to withdraw this offer from sale at any time.