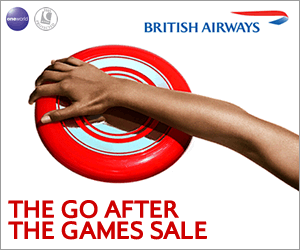 The British Airways "Go after the games" flight and holiday sale is offering savings of up to 25 per cent on flights and holiday packages travelling after September 10, 2012.
With a choice of over 80 worldwide destinations included in the sale, holiday packages start from just £129, flights in economy start from £59 one-way (from London Heathrow to Zurich) with premium economy flights from £684 return (from London Heathrow to Dubai).
City breaks, USA holidays, fly-drive packages and sun breaks to the Caribbean are all included with savings of up to £150 per person.
Lisbon flights + 2 nights hotel from £189pp
Istanbul flights + 2 nights hotel from £199pp
Prague flights + 2 nights hotel from £215pp
Rome flights + 3 nights hotel from £225pp
Barbados flights + 7 nights hotel from £649pp
St Lucia flights + 7 nights hotel from £649pp
Cancun flights + 7 nights hotel from £699pp
Antigua flights + 7 nights hotel from £749
New York flights + 3 nights hotel from £579
Las Vegas flights + 3 nights hotel from £649
Washington flights + 3 nights hotel from £599
Toronto flights + 3 nights hotel from £649
Spain flights + 7 days car rental from £129
Italy flights + 7 days car rental from £139
France flights + 7 days car rental from £169
Florida flights + 7 days car rental from £469
Rest of USA flights + 7 days car rental from £469
South Africa flights + 7 days car rental from £739
The Go After The Games Sale From British Airways
Travel Deals: British Airways