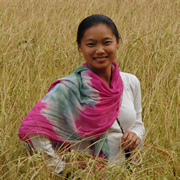 guilin-yangshuo-guide.com
My name is Mulan and I am from the Zhuang minority group. I'm really passionate about introducing people to the local culture of my area and of China!
I'm a fun-loving and outgoing person and I always try my best to make sure my guests are relaxed, gain an insightful experience and also have a really fun time!
I have used my years of experience as a tour guide to create a tour service around Guilin, Yangshuo, Longsheng and also the minority areas of Guizhou Province and also to provide helpful information to travelers about these areas. I also work with the local communities to ensure the environment and cultural heritage is being respected, so "responsible tourism" is always a priority.