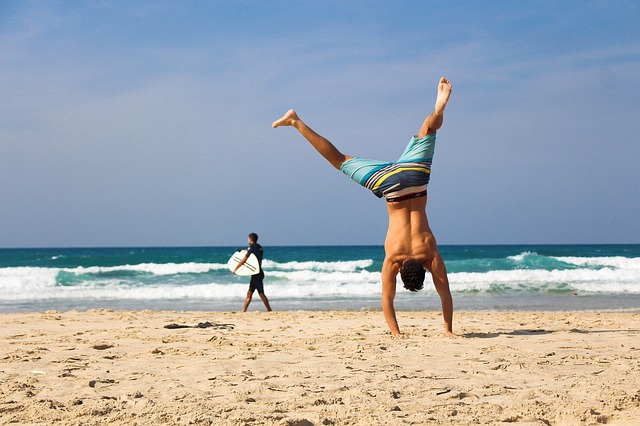 How is it that when on vacation (for business or pleasure) your healthy lifestyle routines seem to go down the drain? Sure, going on a trip means being able to have fun and let go of the normal struggles of everyday life, but does it have to mean coming home out of shape and uninspired to get back on track? The truth is that even though being away from certain resources like a kitchen or your neighborhood gym you can still maintain your diet and exercise routines while on vacation.
Find a Hotel with a Mini Kitchen
The best way to avoid the temptation of fast food and other stuff you probably shouldn't be eating would be to find a hotel with the right accommodations. A small suite with a kitchen attached allows you the convenience to prepare your meals just as you would at home so you don't fall of track.
Pack the Appropriate Gear
Wearing the right gear for a good workout is important for your health and safety. So as you pack those short sets, summer dresses, bathing suits, or business suits, make sure that you've packed your workout gear. This might include your yoga pants and tops, a good pair of running shoes, workout wedding bands, basketball shorts, headphones, and whatever else you'd use when working out at home.
Find a Nearby Gym
Finding a gym to visit while you're on vacation isn't as hard as it may seem. There are plenty of gyms that offer passes or affordable daily fees for those who just want to work out. If you were out of town on business in Colorado, for example, you may find that the Highlands Ranch gym is convenient. They have tons of equipment as well as several exercise classes you can participate in while you're away.
Stay Active (But Still Have Fun)
When planning activities you'd like to do while on vacation keep your health in mind. The more active you are the easier it is to stay in shape. There are a ton of activities you can try that are so much fun they don't even feel like exercise. Go for a swim at the hotel pool or a nearby beach, take a walk around cities and explore shops, or go for a hike on a nice trail and have a picnic when you're finished. All these activities get your blood flowing and those calories burning.
Keep Snacks on Hand
When you're out and about on vacation you can easily work up an appetite. This is usually how you get sidetracked from your diet and find yourself indulging in a little more than you should. Packing healthy snacks like fresh fruits, vegetables, nuts, or even yogurt can help tide you over until you get back to the hotel or find a healthy place to get a bite to eat.
Don't Be Too Hard on Yourself
There's nothing wrong with indulging a bit into delicious foods or having a lazy day where you don't want to work out. In fact, when you push yourself too hard sometimes it can push you further away from your goals. So, if you cooked healthy meals for breakfast and lunch and want to try a new restaurant for dinner, knock yourself out.
If you're worried about sticking to your diet and exercise routines to stay healthy while on vacation, there are things you can do. Start by choosing accommodations that have conveniences (like a kitchen) that you need to stay on track. Then, research your travel destination to find nearby gyms and other activities you can try to stay active. At the end of the day, however, keep in mind this is time away from home and it should be enjoyed. So, one or two cheat days really won't hurt as bad as you think.